For many years I have been thinking about buying a dryer, but my knowledge about it, as it turned out later, was negligible. It was the main reason I waited so long with the purchase.
Only the positive opinions of my friends would make me take the risk and buy a dryer.
Today I know much more about this topic and I will tell you about my experiences, advantages and disadvantages of this device.
Perhaps it was due to the enormous technological progress. It has always seemed to me that after drying the clothes are cruelly wrinkled and I will have to iron them twice as long as before.
In addition, there was so much talk that dryers destroy clothes and shrink them.
As it turned out later, my fears were completely unfounded.
Pros of clothes dryers.
First let's take a look to advantages clothes dryers.
Save time during everyday laundry
I think that I will start with the most important advantage which is the time saving. We take clothes out of the washing machine and put into the dryer, this is where our role ends.
With more children and washing, practically saving time every day is really big.
Space saving
Another matter whether we live in a house or in a block of flats, we always had to hang the laundry somewhere.
There was also a problem that the clothes dryer sometimes had to stand in the living room as well more than one woman irritated. Soft clothes and ready to be put in the wardrobe.
No ironing – at least!
Another advantage I had no idea about was that the clothes pulled out of the dryer are soft, and what the most important is not swept and you do not need to iron them anymore.
The clothes can be folded and hidden to the wardrobe.
Once I wanted to test this softness, so I once did a test with two identical towels. I dried one on the air and the other on the dryer.
I never realized there could be such a difference.
Cleaning clothes from fine fibers
In the dryer in addition to the water container, there is also a dust container and lint from clothes, after each drying there is their entire container.
So it proves that our clothes are not only very dusty but also the fact that we breathe it in all the time, especially in winter when all the dust rises.
Since I bought a dryer, I practically stopped using the iron, so we not only save time but also energy.
No more problems with moisture
Very often there is a problem of moisture in apartments, especially in winter, evaporation and the condensation of the glass causes not only the rotting of the windows, but also the fungus on the walls harmful to our health.
Does having a clothes dryer have any disadvantages?
Energy consumption – will my bills rise?
The first drawback that comes to mind is, of course, energy consumption of electric dryer. If you use Sun and dry our laundry a free-standing dryer outside, we do not use electricity.
But are we actually using more energy ?
With drying clothes in the dryer, there is practically no ironing.
Before that I used to stand for hours because I was ironing everything.
We need extra space for dryer
And one more disadvantage is that the dryer takes up a lot of space. This is obviously a problem for small apartments.
Of course, it could be solved by vertical setup: washing machine can stand on the dryer or eventually it can replace it with a washer / dryer in one device.
However I you have enough space it is better to have separated devices?
Why use both devices instead of one ?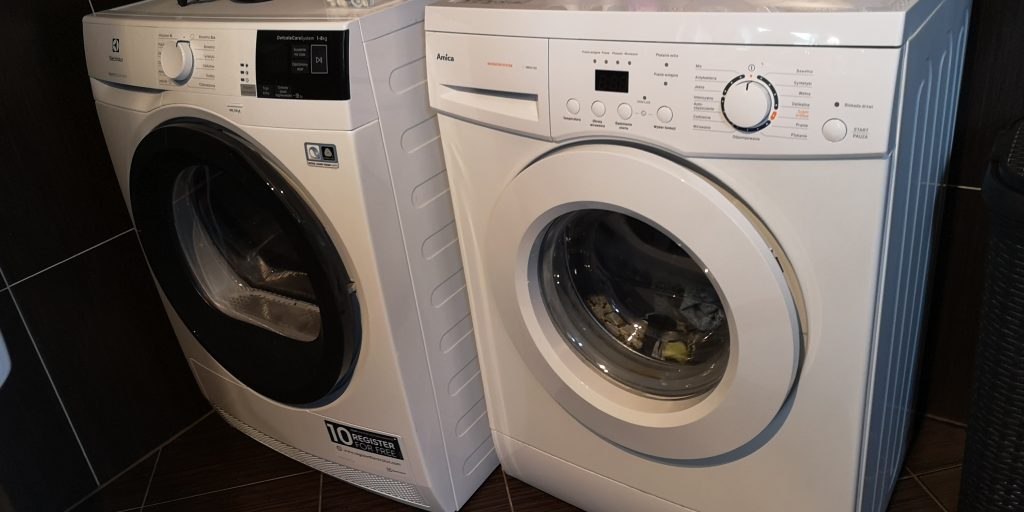 Well, firstly , you can use them simultaneously – one part of loundry is being dried and the second is being washed – you save time.
Secondly, the washer/ dryer in one device is usually smaller.
In our dryer we have a lot of space and you can dry laundry from two wash parts. Some clothes can not be washed together but whey can be dried together with no problem.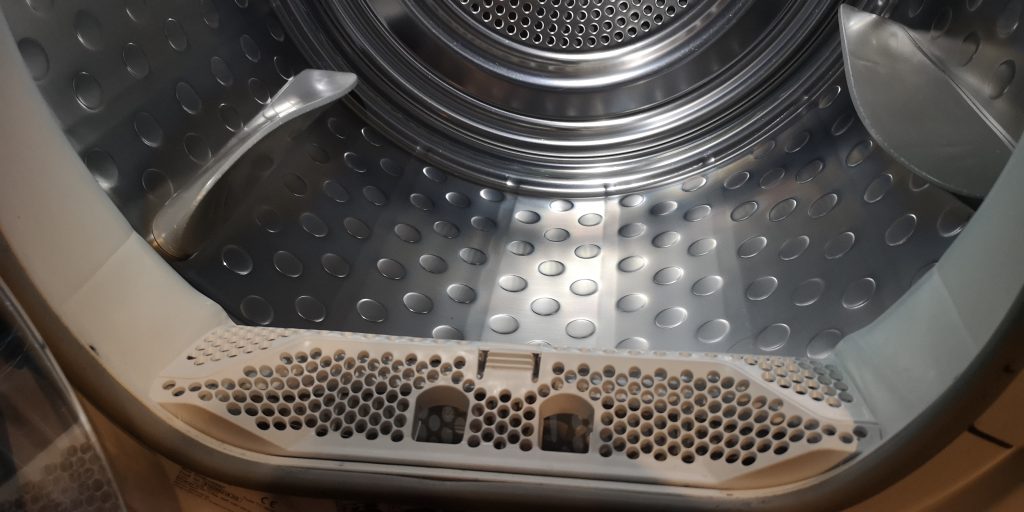 If we already know that having a dryer is only beneficial, the question arises – which dryer should you choose?
Which clothes dryer should you choose?
There is a whole range of dryers on the market, differing in size, color, drum capacity and also water container capacity.
Besides, there are many other, less important issues that are worth paying attention to.
These include:
number of available programs ,
type of control,
delayed start function
smartphone remote control
and much more.
However, among them the most interesting are the charge weighing mechanisms, the auto-drying function or the reduction system crease.
It is also worth paying attention to the energy class of the device, which is also of great importance when choosing dryers.
Dryer with or without a heat pump?
Drying clothes at a lower temperature is more gentle. In my Electrolux dryer
equipped with a heat pump, you can dry everything.
Starting with wool sweaters, through elegant shirts and ending with ski jackets.
When choosing a dryer, we must also consider what type of fabrics we will dry most often, how many times a week we will use it.
I chose the Electrolux dryer from the PerfectCare line – model 800 and I am very satisfied.
The dryer has a lot of programs drying, both for cotton, synthetics, bedding and also for delicate fabrics.
The dryer has also the function of refreshing clothes, which I find very practical.
It is very easy to remove water from the container and clean the fluff container.
Disadvantages of Electrolux Perfectcare 800 dryer ?
The dryer is quite noisy and takes up a lot of space but these are probably the only drawbacks.
Unfortunately, we do not compare with other dryers, so it is difficult to judge if other models are quieter.
Summary
I have been using this dryer for about a year and so far there have been no problems with it. We regularly clean the filters (bottom and top) and pour out the water.
This is basically all service activities with the dryer.
If you have any specific question – ask in the comment.
We bought our model using this store: https://all4home.rating-review.eu/product-category/clothes-dryers/ but at the moment of writing this post, there is no longer Electrolux in the offer.
I emphasize that this is not a sponsored article. We only write what has been checked and confirmed by us. Nobody gave us a dryer or gave us a discount. We paid the full price in the store.